Luxury and performance combined. The first crossover bike and the elite in urban mobility.
Design
A design and engineering masterpiece that could belong to the most exclusive art galleries.
Conquer the city and beyond. Choose your path, off-road or on the road. With Aryon there are no limits.
Aryon
The most exquisite bike created at the Forestal Technology Centre.
Unmatched and unrivalled.
Nothing compares.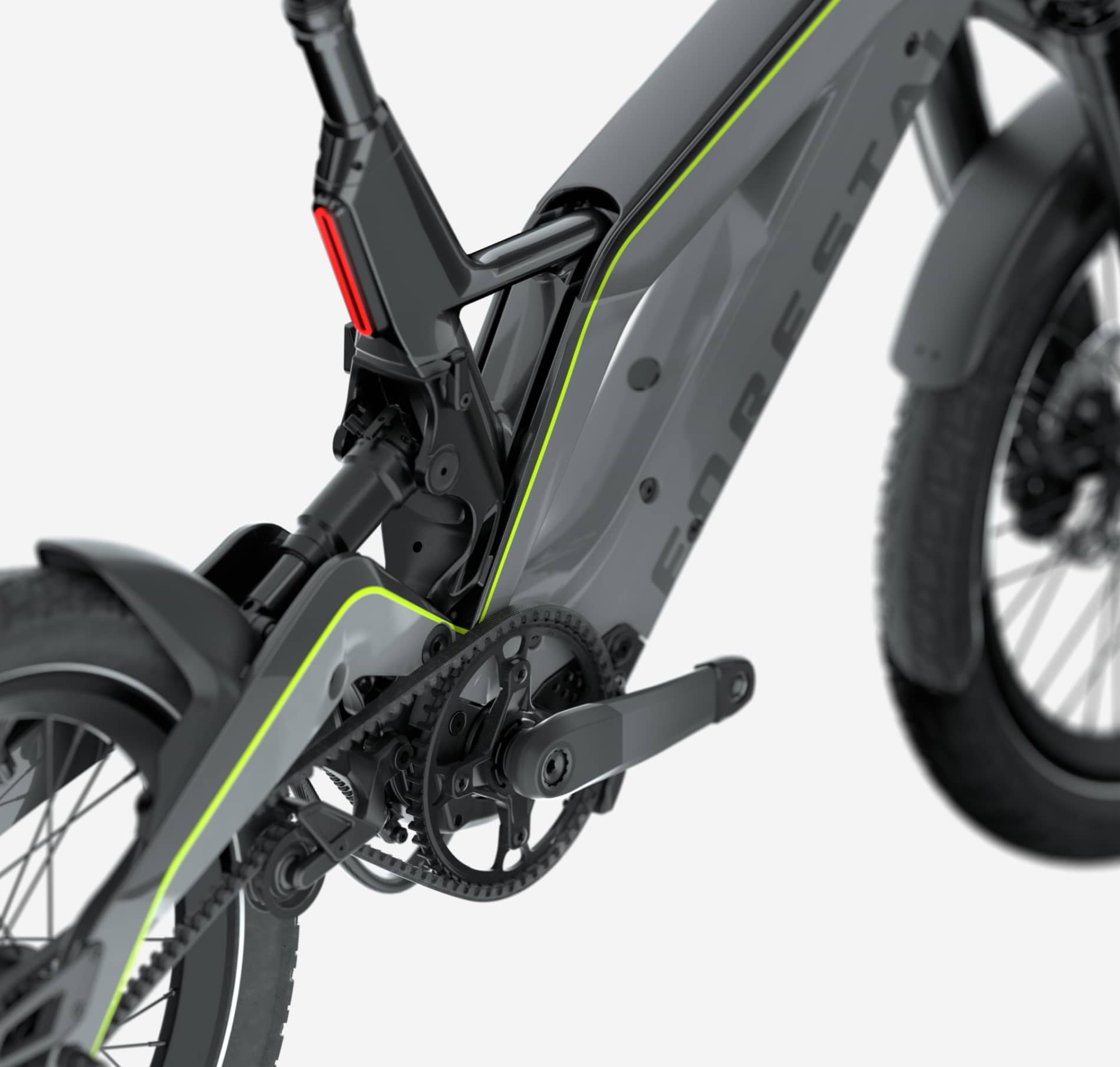 Frame
Alpha Box
Signature
Forestal's unequivocal Alpha Box performance frame.
Carbon
Precision layered, premium carbon fibre.
Foldable
No tools, just hassle-free folding at the click of a button.
Full suspension
Aryon features rear suspension tuned for performance, providing superior damping and pedalling efficiency. Experience flagship mountain bike performance, in a 20" foldable urban bike.
The inverted fork with integrated Forestal custom fender enhances the riding experience while looking great at the same time. Don't shy away from the trails - the Aryon is a mini mountain bike in disguise.
Every detail looks like a piece of art
The rear suspension linkage is a minimalistic set of curves and unique shapes.
A compact urban bike as capable as a performance mountain bike
Enjoy an enhanced riding experience and immerse yourself in a new level of comfort
Carbon belt drive
Clean
No lubrication means no oil to stain your clothing.
Easy
Twice the lifespan of a traditional chain. Smooth, silent and maintenance-free.
Safe
Safe belt drive interface prevents urban accidents.
Dropper post
Thanks to the wireless dropper post, you can lower the height of the saddle by activating the remote control on the handlebar.
Press it again to bring the saddle back to its original height.
No more drama when getting on/off the bike or stopping at traffic lights.
Disc brakes
160mm front and rear rotors for incredible braking power.
Hydraulic, 4-piston, oversized front and rear disc brakes with integrated brake light.
Ride with confidence and safety knowing you have the stopping power of a high-performance mountain bike.
One size that can adapt to every user. Aryon has been designed with specific geometry and proportions optimized for the best handling.
When day and night merge into one. With powerful, integrated LED lights,
Aryon can be seen anytime of the day.
high beam
Brightness: 1,150lm
Activated via integrated switch on handlebar
rear light
Daytime visible.
Brakelight function
Active Flow
Aryon's Active Flow has the ability to move you freely expanding your roads.
Developing our frames alongside our EonDrive allows us to attain a level of integration unseen before. Compact, quiet and natural. Focus on the trail, and EonDrive handles active flow.
1.95kg
The lightest and most compact high-performance motor today.
170mm
A narrow Q-factor for a natural riding position.
IP67
Protection against the elements.
250W / 60 Nm
Range and torque to maintain urban flow.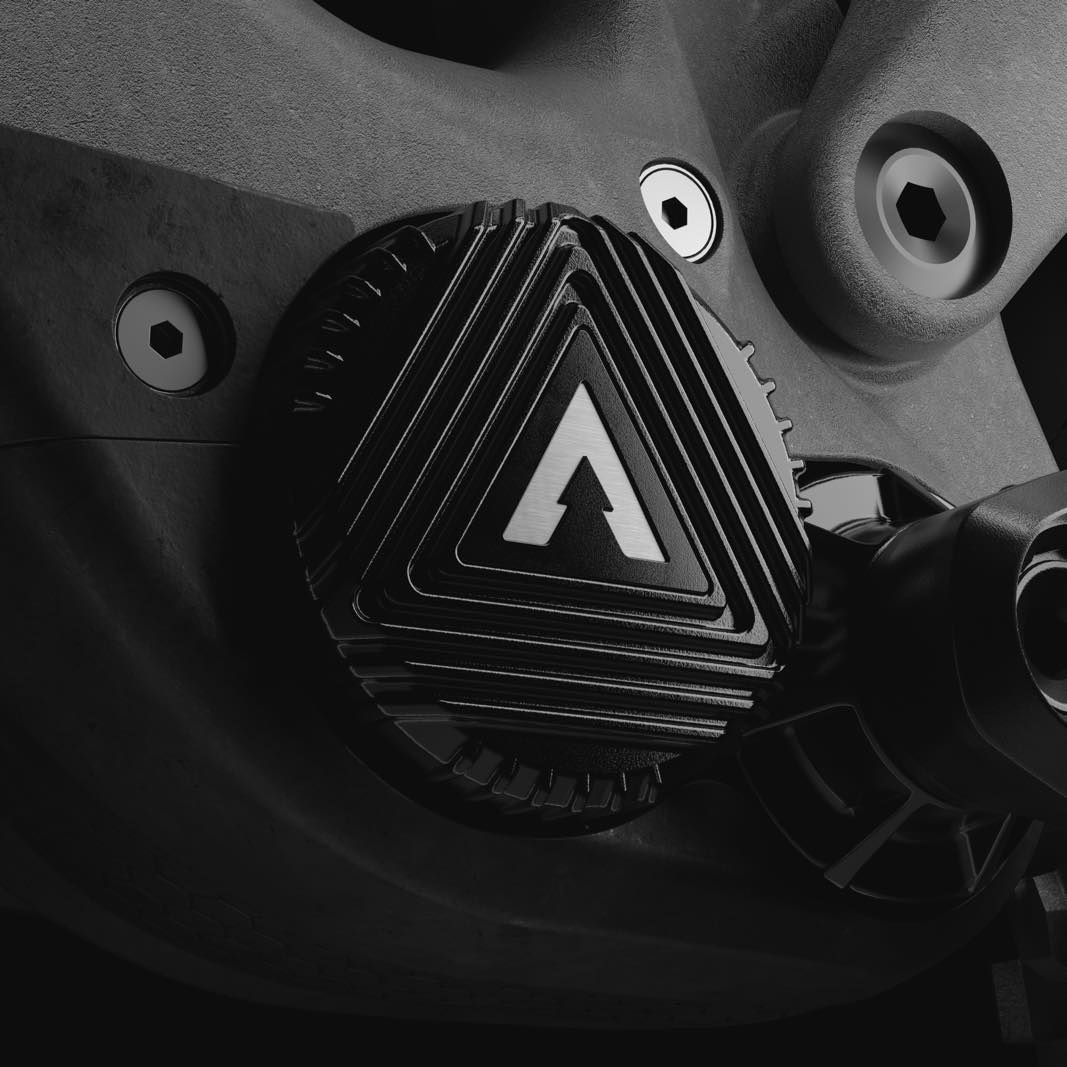 Built to last from the highest quality materials. EonDrive uses titanium for key components and is housed in a magnesium shell.
Without assistance, EonDrive is completely disengaged, bringing zero friction to the transmission. No noise, no drag, only resistance-free and intuitive pedalling.
The Aurora battery is a technological masterpiece. Fully integrated, lightweight and incredibly energy efficient.
360Wh 51V
Incredibly light and compact. Optimized to the maximum range.
1h 24min
Rapid charge technology brings Aurora to 80% capacity in just 84 minutes.
1800g
High-performance and lightweight integrated battery featuring an easy-access charging port.
Discover the world of exclusivity
Interface
Your bike as a smart device. Effortless connectivity either through your phone or through the bike's dedicated internet connection.
Your bike is at home.
In safety.
An immersive 3.2" touch-screen display boasting stunning high-definition visuals.
Through this crisp clear panel, you can keep track of information, directions and more all while on a ride.
Navigation
Maps
Geolocation
Anti-theft
Battery status
Assist control
Bike notifications
Record
Synchronize
Statistics
Training
Heart rate
Power
Speedometer
Elevation
G-force
Air time
Updates

4
Low energy consumption
All-conditions touch screen
Water, scratch and impact resistant
High definition Minimalistic and multifunctional method of controlling the most advanced cycling system on the planet. Responsive controls to provide interference-free fun for any rider.
A world of information at your fingertips. Our custom coded App connects your smart device to Siryon. There you will discover a wealth of data, stats and valuable tools to help you make the most of your ride.
Geolocation
Anti-theft
Activities
Statistics
Strava
Bike condition
Notifications
Battery data
Motor data
Biometrics
Settings
Maintenance
FAQs
Manuals
Warranty
Chat
News
Updates

4
Highlights
Forestal Aryon